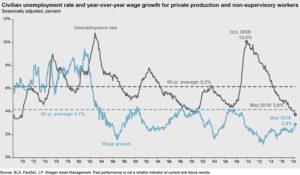 WHILE THE ECONOMY MAINTAINS A SLOW-BUT-STEADY PACE OF GROWTH, THE LABOR MARKET HAS CONTINUED TO TIGHTEN.
This reflects two key trends:
Low productivity growth, which implies most GDP growth has to come from employing more workers, and
Low labor force growth, which means that much of the job growth has come from re-employing the unemployed rather than new workers entering the labor market.
Solid GDP growth in 2017 and 2018 should cut the unemployment rate further, perhaps to 3.5% by the end of 2018, having already fallen close to 4% by the end of 2017. While wages have been slow to react to a tight labor market so far, extra pressure to find workers spurred by tax cuts could finally boost wage growth in 2018.
Source: BLS, FactSet, JP Morgan Asset Management