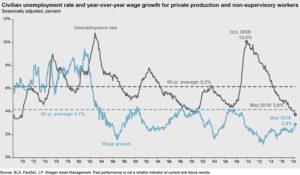 WHILE THE ECONOMY MAINTAINS A SLOW-BUT-STEADY PACE OF GROWTH, THE LABOR MARKET HAS CONTINUED TO TIGHTEN.
This reflects two key trends:
Low productivity growth, which implies most GDP growth has to come from employing more workers, and
Low labor force growth, which means that much of the job growth has come from re-employing the unemployed rather than new workers entering the labor market.
Solid GDP growth in 2017 and 2018 should cut the unemployment rate further, perhaps to 3.5% by the end of 2018, having already fallen close to 4% by the end of 2017. While wages have been slow to react to a tight labor market so far, extra pressure to find workers spurred by tax cuts could finally boost wage growth in 2018.
Source: BLS, FactSet, JP Morgan Asset Management
---
Redmount Capital Partners, LLC (Redmount) provides financial guidance and makes recommendations based on the specific needs and circumstances of each client. Investing involves risk and clients should carefully consider their own investment objectives and never rely on any single chart, graph or marketing piece to make decisions. The information contained in this blog is intended for information only, is not a recommendation, and should not be considered investment advice. Please contact your financial adviser with questions about your specific needs and circumstances. This blog is a sponsored blog created or supported by Redmount and its employees, organization or group of organizations. This blog does not accept any form of advertising, sponsorship, or paid insertions. Certain authors of our blog posts may be influenced by their background, occupation, religion, political affiliation or experience. It is important to note that the views and opinions expressed on this blog are that of the owner, and not necessarily Redmount. As a Registered Investment Adviser, Redmount does not allow any testimonials on their blog, and any comments deemed as such Redmount will remove.
Redmount does not offer tax or legal advice; therefore all articles should not be taken as such. Please consult legal or tax professionals for specific information regarding your individual situation. All referenced entities in this site are separate and unrelated to Redmount. Any references to any specific commercial product, process, or service, or the use of any trade, firm or corporation name is for the information and convenience of the public, and does not constitute endorsement, recommendation, or favoring by Redmount.