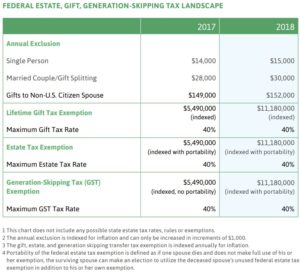 Individuals can now pass $11.18 million to heirs, free of gift, estate and generation-skipping transfer taxes; for married couples that exception is twofold, or $22.36 million.
The Tax Cuts and Jobs Act of 2017 linked these exceptions to inflation, which means that they should continue to increase, albeit slowly, over the next few years. However, they will sunset in 2025 and the prior exemptions, $5.6 million and $11.2 million, respectively, will be restored. And that could happen sooner if the political climate changes.
The incentive to act soon is clear. That doesn't make it an easy decision, however. Thoughtful, properly designed trusts can be a powerful tool in fulfilling a family's long-term financial objectives, while avoiding cause for regret.
---
Disclosure: Redmount Capital Partners, LLC (Redmount) is a Registered Investment Advisor with State of California, New York, New Jersey, and Texas. Redmount provides financial guidance and makes recommendations based on the specific needs and circumstances of each client. Investing involves risk and clients should carefully consider their own investment objectives and never rely on any single chart, graph or marketing piece to make decisions. The information contained is intended for information only, is not a recommendation, and should not be considered investment advice. Please contact your financial adviser with questions about your specific needs and circumstances. Redmount does not offer tax or legal advice; therefore, all articles should not be taken as such. Please consult legal or tax professionals for specific information regarding your individual situation. All referenced entities in this site are separate and unrelated to Redmount. Any references to any specific commercial product, process, or service, or the use of any trade, firm or corporation name is for the information and convenience of the public, and does not constitute endorsement, recommendation, or favoring by Redmount. All Rights Reserved. Redmount Capital Partners, LLC.