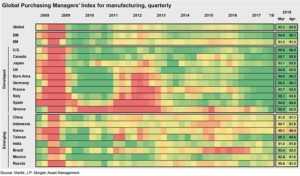 AFTER TWO YEARS OF VERY MEDIOCRE GROWTH AND VARIOUS SETBACKS OVER THE LAST DECADE, THE GLOBAL ECONOMY STARTED TO SHOW SIGNS OF LIFE AT THE END OF 2016.
So far, it does not appear that things will cool off, with the global aggregate manufacturing purchasing managers' index reaching six-year highs moving into 2018.
The Eurozone is growing particularly fast, thanks to a still undervalued currency, rising confidence and considerable pent-up demand, while other developed markets like Japan, Canada and the U.S. continue to accelerate.
The UK appears to be weathering the impact of the Brexit vote better than many had feared, thanks to more competitive exports on a weaker currency.
Meanwhile, a rebound in demand for commodities continues to be a positive for Latin America, Canada and Australia, while Chinese contribution has ebbed slightly in recent months as authorities try to restrain financial speculation.
All-in-all, the global economy is growing everywhere but booming nowhere, something that adds a certain stability to future growth.