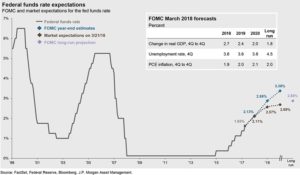 RATES MOVED STEADILY HIGHER AS FINANCIAL MARKETS GYRATED IN APRIL.
Yields on 10-year U.S. Treasury's broke through the magical 3.0% threshold, up from 2.41% at the end of 2017.
While that is noteworthy, the real story has been the rise in the front end of the curve.
Yields on 2-year Notes reached 2.48% at the end of April, up from 1.88% at the end of December. With that, the on-again-off-again relationship with inflation was back on.
San Francisco Federal Reserve President John Williams said, "I expect that we actually will see inflation not only reach but slightly exceed our longer-run 2% goal for the next few years." Data were supportive of this view.
Oil reached prices not seen since 2014 and steel and aluminum prices were also up significantly in advance of proposed U.S. tariffs, and gasoline is moving higher as well.
Headline inflation, as measured by the consumer price index (CPI), now sits at 2.4% and core CPI has climbed to 2.1%.
Annualized real GDP rose 2.3% in the first quarter, better than the consensus forecast of 2.0%, but down from the 2.9% in the fourth quarter. In spite of the slip, the trajectory of growth in the U.S. seems to be gaining speed.
Source: Federal Reserve, Janus Henderson Investors, Bloomberg, JP Morgan, FactSet
---
Redmount Capital Partners, LLC (Redmount) provides financial guidance and makes recommendations based on the specific needs and circumstances of each client. Investing involves risk and clients should carefully consider their own investment objectives and never rely on any single chart, graph or marketing piece to make decisions. The information contained in this blog is intended for information only, is not a recommendation, and should not be considered investment advice. Please contact your financial adviser with questions about your specific needs and circumstances. This blog is a sponsored blog created or supported by Redmount and its employees, organization or group of organizations. This blog does not accept any form of advertising, sponsorship, or paid insertions. Certain authors of our blog posts may be influenced by their background, occupation, religion, political affiliation or experience. It is important to note that the views and opinions expressed on this blog are that of the owner, and not necessarily Redmount. As a Registered Investment Adviser, Redmount does not allow any testimonials on their blog, and any comments deemed as such Redmount will remove.
Redmount does not offer tax or legal advice; therefore all articles should not be taken as such. Please consult legal or tax professionals for specific information regarding your individual situation. All referenced entities in this site are separate and unrelated to Redmount. Any references to any specific commercial product, process, or service, or the use of any trade, firm or corporation name is for the information and convenience of the public, and does not constitute endorsement, recommendation, or favoring by Redmount.