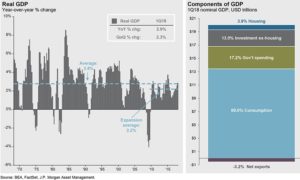 THIS HAS BEEN A SLOW BUT RESILIENT EXPANSION
This economic expansion has been like a healthy tortoise – slow but steady. In fact, as of December, the expansion is in its ninth year, making it the third longest expansion since 1900. Growth accelerated in the third quarter after firming in the second, and rebuilding following a series of natural disasters, alongside tax reform, should add to growth. That said, U.S. growth may be limited moving forward by structural constraints.
The economy should grow faster moving into 2018
Growth should accelerate and stabilize through the end of 2018, reflecting a pick-up in exports, inventories, government spending and fiscal stimulus through tax reform. Stronger investment spending and an improving global economy should also be tailwinds. Regardless, weak productivity and labor force dynamics should prevent sustained growth at 3.0%, with growth likely slowing to 2% or less in 2019 and beyond.
---
Redmount Capital Partners, LLC (Redmount) provides financial guidance and makes recommendations based on the specific needs and circumstances of each client. Investing involves risk and clients should carefully consider their own investment objectives and never rely on any single chart, graph or marketing piece to make decisions. The information contained in this blog is intended for information only, is not a recommendation, and should not be considered investment advice. Please contact your financial adviser with questions about your specific needs and circumstances. This blog is a sponsored blog created or supported by Redmount and its employees, organization or group of organizations. This blog does not accept any form of advertising, sponsorship, or paid insertions. Certain authors of our blog posts may be influenced by their background, occupation, religion, political affiliation or experience. It is important to note that the views and opinions expressed on this blog are that of the owner, and not necessarily Redmount. As a Registered Investment Adviser, Redmount does not allow any testimonials on their blog, and any comments deemed as such Redmount will remove.
Redmount does not offer tax or legal advice; therefore all articles should not be taken as such. Please consult legal or tax professionals for specific information regarding your individual situation. All referenced entities in this site are separate and unrelated to Redmount. Any references to any specific commercial product, process, or service, or the use of any trade, firm or corporation name is for the information and convenience of the public, and does not constitute endorsement, recommendation, or favoring by Redmount.