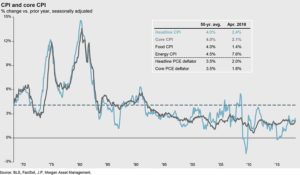 HE WEAKNESS IN INFLATION IN 2017 APPEARS TO HAVE BEEN LARGELY TRANSITORY, AND INFLATION LOOKS SET TO GRADUALLY EDGE UP THROUGH 2018.
This is helped by a weaker dollar, higher oil prices and tightening labor and housing markets.
The use of information technology around the world has empowered buyers of goods and services, a powerful structural force that has put downward pressure on inflation globally in recent history. This force will likely remain in 2018 and beyond, which should temper the rise of inflation moving forward.