October 2018 – Redmount Capital Partners
Stock Market Correction: When, Why and How?
Many an investor has expressed concerns that a US stock market making record highs with great regularity has to reach a breaking point. After all, what goes up must come down. This is a valid concern and one we will address in this report.
To be clear, a stock market correction can happen at any time and from any point, especially in over-bought, over-extended markets such as the one the US stock market is in. That said, the market and economic related data that we look at provides only two indicators that flash red: valuation and market to market divergences. Let's look at each.
Valuation
If we use Robert Shiller's well-known cyclically adjusted price earnings (CAPE) ratio, we see US large cap stocks at valuation levels that are unmatched in history save the dot.com era of the late 90s/early 00s. The problem with using valuation models as a predictive tool is, however, that they tend to be (a) highly subjective and (b) very imprecise re calling market turns. Shiller's CAPE is a perfect example. While it is helpful in identifying a zone of vulnerability, they are less useful predicting when the turn will come1.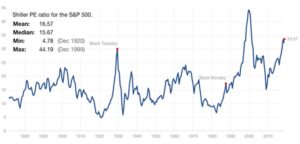 Market to Market Divergences
Bull markets are served best when most markets move in sync with one another. The rising tide lifting all boats is better as world economies and markets are interconnected and interdependent to each other. Sticking with the analogies, what happens in Vegas doesn't stay in Vegas. One very useful way to measure this connection is by monitoring stock markets around the world to see if such coordinated action is underway.
Bull markets in stocks are best if all markets move in sync. At present, they are not. One market – the US – is in a very strong bullish trend while the rest of world is either flat to negative. History teaches us that this condition cannot continue indefinitely. One market trend will prevail. Which one will it be cannot be predicted, only surmised.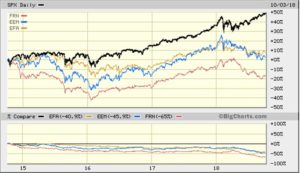 The Ledger
On the bullish side of the ledger:
1 – Earnings growth projected (+20% for 2018, +10% for 2019)
2 – Interest rates (10-year US treasury rate) still low around 3%
3 – Investible liquidity (e.g. lots of dry powder in private equity and hedge funds)
4 – Market momentum (price and moving averages)
US economic warnings signs are absent. Not a single advance US economic indicator is even remotely concerning and the 13 out 16 that we track are positive.
On the bearish side of the ledger:
1 – Valuation
2 – Market to Market divergences
Stock Market Conclusion
Air pockets (market corrections) are always possible but anything beyond a sharp, short decline is just not there. Considering the fact that professional investors (for they are the market) have to have strong and justifiable reasons to change positions. To do so absent anything that can be justified is to risk career suicide.
______
Recent Media & other events
Bloomberg Radio: Link Here Our Chief Investment Officer Vincent Catalano CFA discussing Fed bank reserves policy on Bloomberg Markets with Carol Massar and Jason Kelly
The Wall Street Journal: Link Here Our Chief Investment Officer Vincent Catalano, CFA was asked to voice opinion by The Wall Street Journal.
Bloomberg Radio: Link Here Our Chief Investment Officer, Vincent Catalano, CFA, discussing PE role in portfolios that contain publicly-traded companies on Bloomberg Markets with Carol Massar and Jason Kelly.
Global Indexing & ETF Conference Our Chief Investment Officer Vincent Catalano, CFA moderated panel discussion of IMN Global Indexing & ETFs Conference in Monarch Beach Resort, Dana Point.
______
---
About the Author
VINCENT C. CATALANO, CFA, Chief Investment Officer, Redmount Capital Partners
In addition to serving as Chief Investment Officer of Redmount Capital Partners, Vincent Catalano, CFA appears regularly in the financial media (Bloomberg TV & Radio, Financial Times, Wall Street Journal, CNBC, Yahoo Finance, foxbusiness.com, BNN TV, New Delhi TV, CCTV – America, Barrons, Reuters) and is a frequent guest speaker at various major investment forums and CFA Societies, including the highly acclaimed "Market Forecast Series". He is author of "Sectors and Styles" (Wiley 2006) and is a past president of the New York Society of Security Analysts and a Nonresident Senior Fellow at the Information Technology and Innovation Foundation. Attended The Juilliard School and New York University and earned his CFA charter in 1986. Started his career in 1977, serving as senior financial advisor at Merrill Lynch, until 2000. Prior to joining Redmount Capital Partners, was Global Macro Strategist at Blue Marble Research, economic and markets advisory firm for family offices, foundations, and endowments.
---
Sources: 1 It is worth noting that the same factors apply when trying to determine if a market decline (bear market) is at a turning point toward a bull market. Stock market chart via BigCharts.marketwatch.com. CAPE via Robert Shiller http://www.multpl.com/shiller-pe/
---
Disclosure: Redmount Capital Partners, LLC (Redmount) is a Registered Investment Advisor with State of California, New York, New Jersey, and Texas. Redmount provides financial guidance and makes recommendations based on the specific needs and circumstances of each client. Investing involves risk and clients should carefully consider their own investment objectives and never rely on any single chart, graph or marketing piece to make decisions. The information contained is intended for information only, is not a recommendation, and should not be considered investment advice. Please contact your financial adviser with questions about your specific needs and circumstances. Redmount does not offer tax or legal advice; therefore, all articles should not be taken as such. Please consult legal or tax professionals for specific information regarding your individual situation. All referenced entities in this site are separate and unrelated to Redmount. Any references to any specific commercial product, process, or service, or the use of any trade, firm or corporation name is for the information and convenience of the public, and does not constitute endorsement, recommendation, or favoring by Redmount. All Rights Reserved. Redmount Capital Partners, LLC.