November 2018 – Redmount Capital Partners
______
If History Is Any Guide
In last month's report, we addressed the issue of a stock market correction. And, almost right on schedule, October delivered just such a correction – and then some. But stocks didn't just drop. They produced an above average amount of volatility in the process. This issue was discussed in my recent Reuters TV interview in which I described how stock market volatility in the month of October is as American as apple pie. The issue becomes, does the big drop in US equities along with the sharp increase in stock market volatility signify any more substantial? If history is any guide, the answer has to be no.
Let's look at some of the facts.
History's Mysteries
The reasons for the stock market decline and the increased volatility can be laid primarily at the feet of three key factors1:
The upcoming 2018 midterm elections in the US
The rise in interest rates
The risk of peak corporate earnings
In this month's report, we will focus on point #1: The upcoming midterm elections in the US.
There is considerable concern among investors that a change in the US Congress will derail the perceived benefits of the current administration and its cohorts in Congress. This belief, while short-sighted2, has apparently influenced enough investors and traders to bail out and surge in of stocks, thereby increasing the volatility substantially. But what does history tell us about such periods?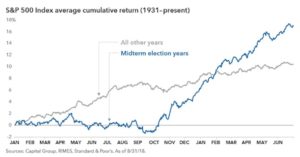 Let's start with the fact that the all presidential administrations tend to lose seats in both houses of Congress. (I guess you could say losing seats in Congress is as American as apple pie, too.)
So, do such losses mean anything when it comes to the equity markets?
This chart shows that while US stocks perform with great angst in the months leading up to the midterm election, the subsequent months tend to be resolved to upside once the election event has actually occurred. No pain, no gain.
That's fine, you might say. But what happens when the election results in the current party in power in the House (that being the Republicans) are no longer in control?
As the next chart shows that even when the party in power loses control stocks do just fine, thank you very much.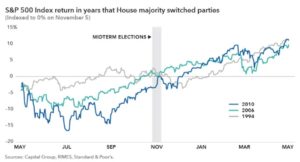 So, it isn't just the loss of seats that have no impact. Even the loss of control doesn't seem to matter.
But that's not all.
When we look at how US large cap stocks have done one year after a US midterm election, the data is simply exceptional.
An average return of 15.1%, far outpacing all other years (6.8%) and the remarkable fact that not a single year produced a loss!
Investment Strategy Implications
As my good friend Sam Stovall at S&P Capital IQ is fond of saying: History is a guide, not gospel. With that caveat in mind, there are many reasons why investors should be concerned about the current state of affairs for stocks and for the economy. However, when it comes to politics and US midterm elections, the data does not support that concern.
In sum, sit tight and expect the months ahead to be favorable for US equities. Put differently, the day of reckoning lies ahead. Just not on the immediate horizon.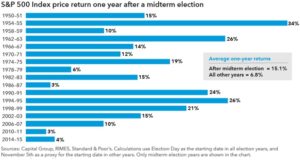 1 Other factors include concerns about Brexit, the rise of protectionism and nationalistic public policy, and tariffs among others.
2 A topic we will cover in future reports.
Data via Capital Group, Standard and Poors, and Statista.
______
Recent Media & other events
Reuters TV: Link Here
Our chief investment officer Vincent Catalano CFA speaks with Reuters' Fred Katayama on U.S. stocks.
 Bloomberg Radio: Link Here
Our Chief Investment Officer Vincent Catalano CFA discussing Fed bank reserves policy on Bloomberg Markets with Carol Massar and Jason Kelly
The Wall Street Journal: Link Here
Our Chief Investment Officer Vincent Catalano, CFA was asked to voice opinion by The Wall Street Journal.
 ______
---
About the Author
VINCENT C. CATALANO, CFA, Chief Investment Officer, Redmount Capital Partners
In addition to serving as Chief Investment Officer of Redmount Capital Partners, Vincent Catalano, CFA appears regularly in the financial media (Bloomberg TV & Radio, Financial Times, Wall Street Journal, CNBC, Yahoo Finance, foxbusiness.com, BNN TV, New Delhi TV, CCTV – America, Barrons, Reuters) and is a frequent guest speaker at various major investment forums and CFA Societies, including the highly acclaimed "Market Forecast Series". He is author of "Sectors and Styles" (Wiley 2006) and is a past president of the New York Society of Security Analysts and a Nonresident Senior Fellow at the Information Technology and Innovation Foundation. Attended The Juilliard School and New York University and earned his CFA charter in 1986. Started his career in 1977, serving as senior financial advisor at Merrill Lynch, until 2000. Prior to joining Redmount Capital Partners, was Global Macro Strategist at Blue Marble Research, economic and markets advisory firm for family offices, foundations, and endowments.
---
Sources: 1 It is worth noting that the same factors apply when trying to determine if a market decline (bear market) is at a turning point toward a bull market. Stock market chart via BigCharts.marketwatch.com. CAPE via Robert Shiller  http://www.multpl.com/shiller-pe/
---
Disclosure: Redmount Capital Partners, LLC (Redmount) is a Registered Investment Advisor with State of California, New York, New Jersey, and Texas. Redmount provides financial guidance and makes recommendations based on the specific needs and circumstances of each client. Investing involves risk and clients should carefully consider their own investment objectives and never rely on any single chart, graph or marketing piece to make decisions. The information contained is intended for information only, is not a recommendation, and should not be considered investment advice. Please contact your financial adviser with questions about your specific needs and circumstances. Redmount does not offer tax or legal advice; therefore, all articles should not be taken as such. Please consult legal or tax professionals for specific information regarding your individual situation. All referenced entities in this site are separate and unrelated to Redmount. Any references to any specific commercial product, process, or service, or the use of any trade, firm or corporation name is for the information and convenience of the public, and does not constitute endorsement, recommendation, or favoring by Redmount. All Rights Reserved. Redmount Capital Partners, LLC.