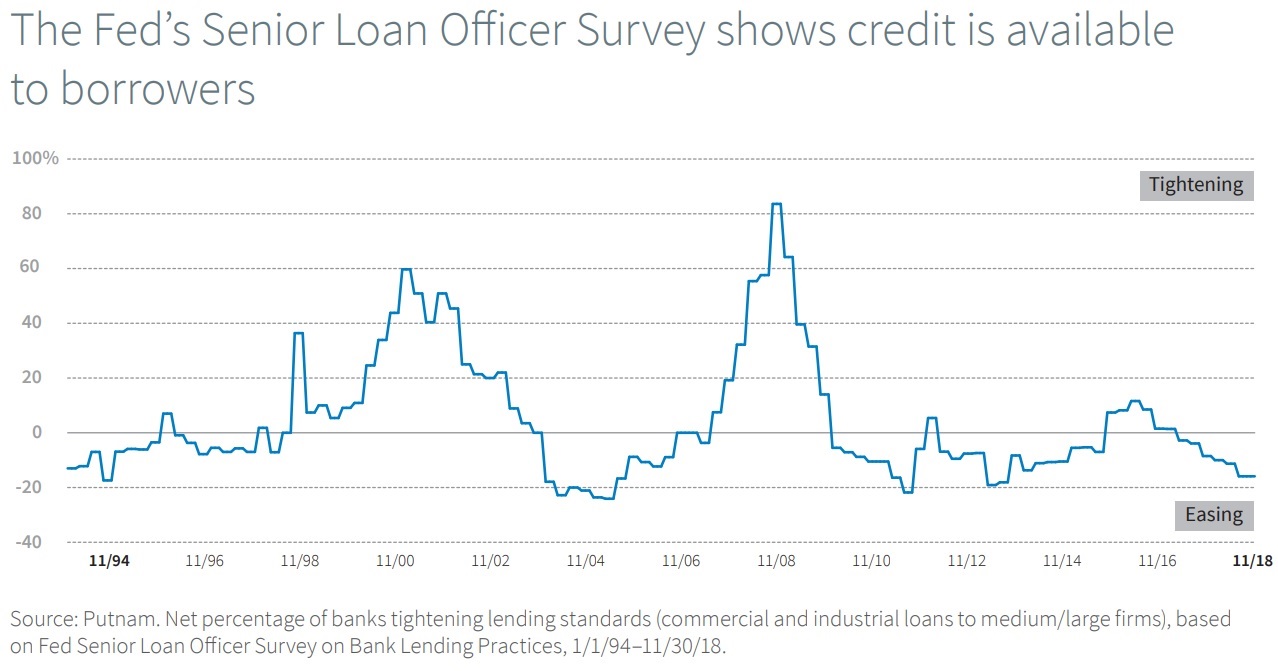 The Fed's Senior Loan Officer Survey shows credit is available to borrowers
Availability of credit, the lifeblood of the corporate sector, is another instrumental signpost leading into recessions. To track this indicator, we closely monitor the Fed's quarterly Senior Loan Officer Survey for hints that the banking system might be tightening the availability of credit. While this survey doesn't have as much history as we would generally prefer (it began in 1990), its theoretical underpinnings are solid, and it has given an accurate warning ahead of the past three recessions. It showed signs of stress in 2016. A technical recession did not occur, but we would describe this period as a mini-recession. The stress in the energy sector resulting from the collapse in oil prices from the third quarter of 2014 to the first quarter of 2016 caused an uptick in the default rate in several important sectors of the economy. Today, the loan officer survey shows that we begin 2019 with ample evidence that banks are willing and able to lend.
---
Redmount Capital Partners, LLC (Redmount) provides financial guidance and makes recommendations based on the specific needs and circumstances of each client. Investing involves risk and clients should carefully consider their own investment objectives and never rely on any single chart, graph or marketing piece to make decisions. The information contained in this blog is intended for information only, is not a recommendation, and should not be considered investment advice. Please contact your financial adviser with questions about your specific needs and circumstances. This blog is a sponsored blog created or supported by Redmount and its employees, organization or group of organizations. This blog does not accept any form of advertising, sponsorship, or paid insertions. Certain authors of our blog posts may be influenced by their background, occupation, religion, political affiliation or experience. It is important to note that the views and opinions expressed on this blog are that of the owner, and not necessarily Redmount. As a Registered Investment Adviser, Redmount does not allow any testimonials on their blog, and any comments deemed as such Redmount will remove.
Redmount does not offer tax or legal advice; therefore all articles should not be taken as such. Please consult legal or tax professionals for specific information regarding your individual situation. All referenced entities in this site are separate and unrelated to Redmount. Any references to any specific commercial product, process, or service, or the use of any trade, firm or corporation name is for the information and convenience of the public, and does not constitute endorsement, recommendation, or favoring by Redmount.